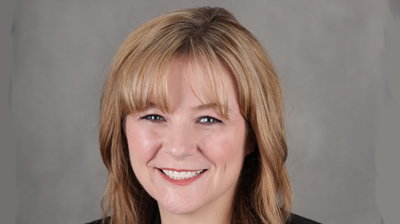 US automotive insight provider Experian, provided an in depth look at outstanding loan balances, total risk distribution and delinquency rates for the first quarter of 2020. Furthermore, in the Q1 2020 State of the Automotive Finance Market, Melinda Zabritski, senior director of Experian Automotive Financial Solutions, observed April's originations to see how the pandemic is impacting auto lending.
Offering information from Experian's consumer credit database, Zabritski undertook a review of all open automotive loans and leases, regardless of when they originated. Total loan balances decreased year-over-year by $12 billion in Q1 2020 compared to the year before, falling to $1.168 trillion from $1.181 trillion.
Zabritski explained: "If we break those balances down across the different lender types, the balance decrease is over the captive segment of the market. We very well could be seeing the impact of data reporting due to the Carers Act at this time, I think we'll likely see some levelling out as we move more into Q2 and the subsequent months.
"We did however see a large reduction in overall vehicle registrations for March with a lot of the stay-at-home orders, but we won't fully see the impact of COVID until we get into April and May, so Q2 will show significantly more impact."
In March, new vehicle registrations were down by more than 41% and used vehicle registrations fared worse, falling by almost 52%. The overall impact for Q1 was that new vehicle registrations were down almost 13% and used vehicle registrations were down almost 19%.
Total open automotive loan balance
Zabritski continued: "Lender balances will definitely see an impact in terms of the reduction in new vehicle sales, however looking at the year-over-year changes we can see that Q1 balances for banks are up 4.86%, maintaining their position as the largest lenders with $385 billion in outstandings.
"The decrease in captives of almost 24% is very likely due to some data reporting differences in March which is when we pull our Q1 data. Credit unions are up 3.37%, and finance companies are up 9.8% so there's a lot of changes to balances and I believe we'll start to see them stabilise a little bit more."
Delinquency drops
Overall, the percentage of loans that are 30 days delinquent was down five basis points to a 1.93%, and the percentage of loans and leases that are 60 days delinquent are down one basis point to 0.67%. There is a similar reduction for all except the finance companies, which showed a year-over-year increase in delinquency.
The delinquent balances showed a decrease year-over-year, resulting in the overall percentage of balances that are 30 days delinquent decreasing nine basis points to 1.89%, and the percentage of balances that are 60 days delinquent down two basis points to 0.65%.
Originations in Q1 2020
When we look specifically at new vehicles, we see that 30.19% of them are leased, which marks a reduction of 13.5% from last year. Used vehicles also represent a smaller portion of the lease market than last year, now 9.43% of all leasing.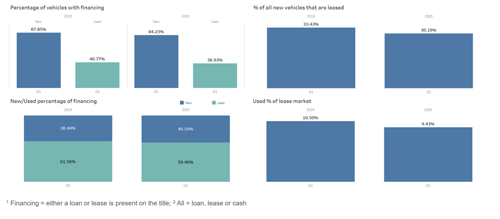 Credit scores on the rise
Credit scores have continued to increase year-over-year, with all new car leases and loans rising to an average of 721, firmly in the prime range. In the used car market, credit scores are slightly below although rising steadily year-over-year by three points to an average of 660 for all used car leases and loans, placing it at the upper tiers of the non-prime segment.
The total finance market – encompassing loans and leases across new and used vehicles – reached a Q1 low for deep subprime at only 3.06% of originations and subprime at 17.3%, resulting in only 20.36% of total financing scoring a credit rating of 600 and below.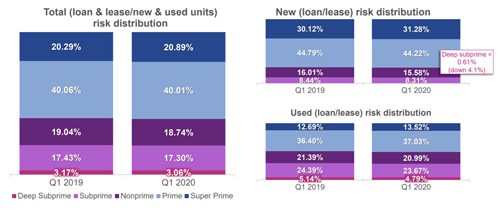 Zabritski added: "For new financing (loans and leases), we continue to see a shift into more prime segments, with over 75% of new vehicles reaching prime and higher, and deep subprime at a mere 0.61%, down 4.1% from Q1 2019.
"Furthermore, used financing saw a Q1 low for deep subprime and subprime, with them both combined reaching 28.46% of the market.
"Leasing overall remained a very prime product, with just under 80% of leasing being prime or higher. However, as we look at the percentage of borrowers who chose a lease, we can see across all of the risk tiers that it is down, which goes hand-in-hand with the fact that leasing overall saw a decrease."
According to the data, the average new vehicle lease payment across all risk tiers had risen by $9 to $466 in Q1 2020, while the average new vehicle lease term across all risk tiers had remained fairly stable, rising slightly to 36.76 months, from its Q1 2019 level of 36.72 months.