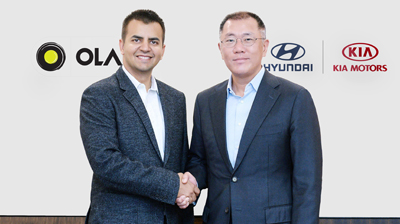 Hyundai Motor Group has announced a $300 million investment into Uber-rival Ola, as the car manufacturer expands into providing mobility solutions and related fleet services.
The agreement will see Hyundai, Kia and Ola collaborate on developing fleet and mobility solutions by building India-specific electric vehicles and support services, as well as helping Ola attract new drivers to the platform.
As part of the strategic collaboration, the companies will jointly develop services to operate and manage the Ola fleet, as Hyundai Motor Group expands its operations from automobile manufacturing and sales to mobility services and total fleet solutions.
Euisun Chung, executive vice-chairman of Hyundai Motor Group, said: "India is the centerpiece of Hyundai Motor Group's strategy to gain leadership in the global mobility market and our partnership with Ola will certainly accelerate our efforts to transform into a smart mobility solutions provider."
The partnership will offer Ola drivers various financial services, including lease and instalment payments, while access to vehicle maintenance and repair services will improve reliability, vehicle quality and customer satisfaction.

Hyundai, Kia and Ola have also agreed to work together to develop new cars and vehicle specifications that reflect the needs of the ride-hailing market for both users and drivers, by sharing data accumulated during operation of the Ola service.
Bhavish Aggarwal, co-founder and CEO of Ola, said: "We're very excited about our partnership with Hyundai, as Ola progresses to build innovative and cutting-edge mobility solutions for a billion people.
"Together, we will bring to market a new generation of mobility solutions, as we constantly expand our range of offerings for our consumers.
"This partnership will also significantly benefit driver-partners on our platform, as we collaborate with Hyundai to build vehicles and solutions that enable sustainable earnings for millions of them, in the time to come."

Ola aims to create more than two million jobs in the mobility ecosystem by 2022 and it already has 1.3 million drivers on its platform, who have access to tailored offerings across vehicles, financing, insurance and added value services.
The ride-hailing company was founded by Aggarwal in 2010 in Mumbai and it now has more than 125 million customers in 110 cities, mainly in India. It expanded into Australia and parts of the UK last year after receiving more than $1 billion from technology investment group SoftBank, which has also backed Uber.
Pictured: Bhavish Aggarwal, co-founder and CEO of Ola (left) and Euisun Chung, executive vice-chairman of Hyundai Motor Group (right)