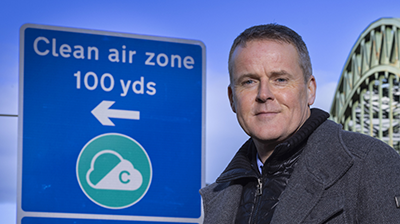 Anglo Scottish Asset Finance Ltd has been appointed by Newcastle City and Gateshead Council to deliver the financial assistance scheme to support businesses affected by the introduction of a clean air zone in Newcastle City Centre.
The financial assistance scheme has been launched to support Newcastle and Gateshead's Clean Air Zone (CAZ), which will charge some of the most polluting vehicles to drive in the city centre. From 30 January 2023, non-compliant taxis, buses, coaches, and HGVs will be charged to enter the zone, with charges for vans and light goods vehicles beginning in July 2023. The scheme only affects buses, coaches, taxis, vans, and heavy goods vehicles that do not meet national Clean Air Zone emissions standards and will not affect private cars.
The scheme has been created in response to a legal direction by the UK Government to the councils in Newcastle and Gateshead to take action to reduce illegal levels of traffic-related pollution. Financial support will be provided in the form of a grant to help reduce the cost to businesses to replace non-compliant vehicles and avoid paying a daily charge for driving in the city centre, it will also aid in the city's goals to meet the government targets in the shortest possible time.
The initiative is funded by the Government's Clean Air Fund, to help businesses to upgrade non-compliant vehicles, as well as to educate businesses and individuals on how to switch to more sustainable forms of transportation.
"We're delighted to be working with Newcastle City and Gateshead councils to support businesses in becoming clean air compliant," commented David Foster, MD at Anglo Scottish. "As a North East based business, we already deal with many companies who regularly drive in and out of the city centre, and the Anglo Scottish team is in a fantastic position both in our expertise and geographical location to be able to support all affected businesses with our "one-stop-shop" solution of grant assistance, cost-effective finance, and vehicle sourcing to reduce the pressures on businesses."