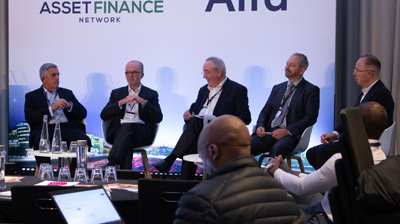 Technology and talented employees will be essential elements in driving future asset finance growth within a more complex business environment, according to a panel of industry chief executives and leaders.
Although digitalisation has the potential to transform business processes and speed up customer service, they agreed that asset finance "will always be a people business".
Mark Picken, CEO at Shire Leasing, said: "Technology is a huge enabler. It is expensive, but it is essential. I believe that this will always be a people business and people will buy from people; they just need the process when they are not interacting with a person to be much slicker and technology-led."
The International Asset Finance Network session was attended by other industry leaders, including Steve Swift, CEO at Star Asset Finance, Mike Randall, CEO at Simply Asset Finance and Patrick Jelly, Commercial Director of Aldermore.
Randall added: "Customers want to be reassured they are doing the right thing. We are a people business, so that is a cost we must have."
The panel session was chaired by John Bennett, Principal of JB Associates.
You can watch a full summary of the industry leaders panel debate, provided courtesy of global asset finance software provider White Clarke Group, by following the link below.