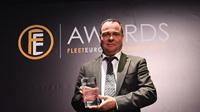 Fleet managers responsible for thousands of vehicles have been recognised for their work at an international awards ceremony.
Juergen Freitag, head of global fleet management at Siemens, has been named Global Fleet Manager of the Year, while Peter Szelenyi, global fleet category manager and regional travel category manager for Europe at Novartis, received the European Fleet Manager of the Year award.
Szelenyi is responsible for 30,000 vehicles worldwide, while Freitag oversees a global fleet of 48,000.
Recipients of the awards were chosen by judges for the annual Fleet Europe Awards, which took place in Estoril, Portugal, in December.
Also at the event, Tim Albertsen, deputy CEO at ALD, was selected as an inductee into the International Fleet Hall of Fame, based on online votes from the European fleet community.
Additional awards went to Heineken, which secured the International Fleet Safety Award. Adriana Holban, global buyer, and Reyes Gonzalez, global safety manager, received the prize.
Accenture, represented by Alexandra Melville, the company's global category expert for car fleet and mobility, received the International Fleet Mobility Award, while the International Fleet Innovation Award was won by SAP and collected by Markus Falk, the company's head of global car fleet.