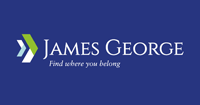 £18k - £20k with attractive commission package (OTE Y1 £50k).
James George Recruitment are looking for talented, intelligent, ambitious, and driven people who are keen to kickstart a rewarding sales career in the lucrative industry of business finance.
Our highly reputable, innovative, and diverse client offers a wide range of finance products complimented with exceptional service for their customers – and because of this, business is fast-growing. We need the right people to join them and generate even greater possibilities for themselves and the business.
What You'll Be Doing
As a Junior Account Manager, you'll be boosting business by generating new leads through various channels – whether that's via outbound calling, emailing, utilizing various social media platforms, or other creative ways, you'll be amongst the action, bringing in business and reaping the rewards of an excellent commission structure along the way.
As well as generating and increasing business sales, you'll also be:
Generating leads through intelligent research and prospecting.
Outbound calling to both B2B customers and potential suppliers, delivering strong introductions.
Nourishing warm marketing-generated leads.
Using excellent communication skills to understand prospects' key drivers and requirements.
Giving prospects a reason to discuss requirements further with an experienced finance broker.
Working alongside an experienced finance broker to assist with admin.
Who We're Looking For
First and foremost, we're looking for a self-starting and passionate individual who is driven to succeed.
This is an entry-level role into business finance. You'll need:
A minimum of 1 year's sales experience, as an account manager, or similar.
Outbound calling/telesales experience.
Confidence in negotiating and handling rejection.
Excellent telephone manner and listening skills.
Good written communication skills.
Ability to multi-manage projects.
Sharp attention to detail.
Some experience using CRM systems.
GCSE or higher-level education in English/Maths preferred.
What You'll Get
An excellent basic salary with a realistic OTE of £50k on your first year. This is supported with superb training and progression opportunities to push your career as far as you want it to go.
You'll also enjoy frequent team incentives, company pension, easy on-site parking, and weekends off to enjoy your earnings.
Please contact Adam Sommerville on 0204 539 9054 Adam.sommerville@jgrecruitment.com or Victoria Rua on 0204 539 9189 Victoria.rua@jgrecruitment.com if you would like to have a discreet and confidential conversation about this opportunity.