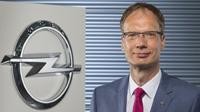 The newly-appointed CEO of Opel has promised to create "a new European champion" as the company starts its journey as part of Groupe PSA.
Michael Lohscheller, Opel CFO since September 2012, was appointed with immediate effect by the supervisory board of Adam Opel to ensure continuity for the business and its stakeholders, with the priority task to build the new strategic plan for Opel.
Opel, including Vauxhall in the UK, is the European arm of General Motors and it was recently sold to Groupe PSA, with a deal expected to be finalised by the end of July.
As part of the alliance, Groupe PSA and BNP Paribas have agreed to jointly acquire Vauxhall/Opel's captive financing activities and have entered into a long-term strategic partnership around the Opel and Vauxhall brands.
Banque PSA Finance and BNP Paribas Personal Finance will each acquire 50% of the share capital of Vauxhall/Opel's financing activities.
Lohscheller said: "I would like to thank the supervisory board for the trust. We will stay on the current path and continue to gain strength as part of the Groupe PSA.
"After the expected closing of the transaction, a new European champion will emerge. I am looking forward to the new task and to working together with the management team to implement a successful future plan for the benefit of all 38,000 Opel/Vauxhall employees and its stakeholders."
Lohscheller takes over from Dr Karl-Thomas Neumann, who has stepped down as the speaker of the management board and CEO of Adam Opel. He remains a member of the management board until the closing of the sale.
Neumann said: "It was a difficult personal decision to not continue with the Opel/Vauxhall team when it transitions to Groupe PSA.
"I am proud of the team for all we have accomplished so far and have no doubt that the move to PSA will make Opel/Vauxhall an even stronger and more successful company in the future. I am committed to completing this transaction and will then take some time to decide what is next for me."
Neumann told his 17,000 followers on Twitter: "I know that some of you are disappointed, but I hope you can understand my decision."
Dan Ammann, Opel supervisory board chairman and president of General Motors said: "We have made tremendous progress in the turnaround of Opel/Vauxhall under Karl-Thomas' leadership. We thank him for his significant contributions to Opel/Vauxhall and GM over the past four years."