In the US, the Equipment Leasing and Finance Association (ELFA) has revealed the line-up for its new board of directors and officers for 2021, implementing the new board following the final meeting of the 2020 board on 10 November.
Set to lead the group, Kristine A. Snow – currently the president of Cisco Systems Capital Corporation – is the new board chair, and Michael DiCeccor – currently the president of Huntington Equipment Finance – is the chair-elect.
Ralph Petta (pictured above), president and chief executive officer of ELFA, explained: "The year 2021 marks ELFA's 60th anniversary, and we are extremely fortunate to have Kris Snow as board chair during the upcoming milestone year. As the worldwide pandemic continues to evolve in the year ahead, Kris's leadership skills, industry experience and commitment to ELFA will help our association move forward in fulfilling our mission in support of our members during these unprecedented times."
ELFA is a trade association based in the US, representing companies in the nearly $1 trillion equipment finance sector. The Association's 575 members incorporate a wide variety of companies including independent and captive leasing and finance companies, banks and manufacturers.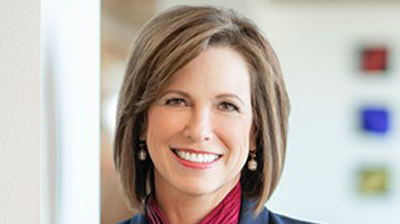 Snow (pictured above) added: "I am honored to accept the position of ELFA board chair and will work diligently with the board of directors, staff and our member organizations to achieve and surpass our goals. As we deal with the uncertainty of the current environment, it can be difficult to look ahead and know how the future will play out. The equipment financing industry, specifically ELFA and its member organizations, continue to be a critical component of business resiliency and economic recovery."
With more than 20 years of commercial leasing and finance experience, Snow joined Cisco Systems Capital Corporation in 2009. In her role as president, she leads the company's global captive finance and certifies remanufactured equipment business. Prior to this, she served as president of global vendor finance at CIT Group. Snow benefits from prior experience of being on the ELFA board of directors from 2008-2011 and returned to the board in 2017.
The newly elected members of the 2021 board of directors include:
Mark Duncan, executive vice president and general manager, commercial finance and corporate development at Hitachi Capital America;
David Farrell, managing director and head of capital markets at Bank of America Global Leasing;
RJ Grimshaw, president and CEO of UniFi Equipment Finance;
Amy Gross, executive vice president, government finance at Key Equipment Finance;
Ricardo A. Rios, president and CEO of Commercial Equipment Finance;
Barry Ripes, vice president, financial institutions leader of PayNet;
David Verkinderend, senior vice president, office equipment and manufacturing vendor services at US Bank Equipment Finance.
Deborah Baker, head of worldwide leasing and financing at HP;
Maureen Carr, managing director of Pacific Western Bank;
Conrad Eimers, president of Vision Financial Group;
Nathan Gibbons, COO at Innovation Finance USA;
Willis Kleinjan, founder and CEO at Northland Capital Equipment Finance;
Alan Mogol, shareholder at Baker, Donelson, Bearman, Caldwell & Berkowitz;
David Normandin, president and CEO at Wintrust Specialty Finance;
Deborah Reuben, founder and CEO at TomorrowZone;
Thomas Rutherford, president at Cretmark Equipment Finance;
David Walton, president and CEO of Caterpillar Financial Services.
In addition to these individuals:
Robert Neagle, president, merchant finance at Ascentium Capital, will be appointed as a vice chair;
Robert Boyer, president at BB&T Commercial Equipment Capital, is also set to be a vice chair;
Daniel Krajewski, president & CEO at Sertant Capital, will serve as treasurer;
Paul Stilp, ELFA's current CFO and COO, will serve as secretary;
Ralph Petta, ELFA's current president and CEO, is an ex-officio officer;
Martha Ahlers, president of United Leasing & Finance, is immediate past chair.