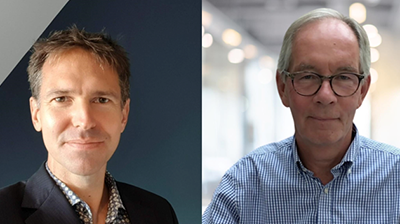 As the economic outlook drives increased pressure on finance companies to improve productivity and make best decisions, specialist consulting and advisory firm Finativ today announces the appointment of two new Consulting Directors, Kevin Davies (pictured left) and Mark Stoddart (pictured right).
With over 20 years' experience providing data strategy consultancy, Kevin Davies has held global and European leadership roles and has a proven track record of delivering complex data strategy projects, including a number of European multi-country analysis and reporting implementations for automotive manufacturers. Kevin's strengths include data strategy and architecture, data visualisation, dashboards and reporting; he also has deep experience in programme and project management.
Utilising an agile, data-driven approach, innovative technologies and lean processes, Kevin is able to support clients in areas such as optimisation of broker and dealer networks, understanding the cost of acquisition, customer retention analysis, maximising the performance of internal processes, in-life or acquisition portfolio analysis and implementing dashboarding and reporting solutions to achieve other business objectives.
Mark Stoddart joins the firm from GrowCap where he was Practice Leader for Process Transformation, having formerly held the role of Head of Professional Services Programmes & Implementation, Large Enterprise Operations at Xerox Europe,
With extensive experience in large project implementation, business analysis and a Lean Six Sigma Black Belt, Mark assists clients in the areas of process improvement, design of new operating models, ISO accreditation including quality management (ISO9001) and information security (ISO27001), and the adoption of emerging technologies.
A focussed and dynamic advisory and consulting business, Finativ combines the competence of practitioners who have "walked in the shoes" of its clients with relevant functional expertise in key strategic disciplines such as data strategy, technology and operational efficiency. Like many in the sector, the firm recognises that data remains a hugely under-utilised strategic asset.
The firm's CEO, Christian Roelofs, commented, "With ever-increasing pressure on performance, productivity and maximising available resources, developing an effective data strategy and improving existing processes are essential and low risk approaches that too often fall below the radar for finance companies. With Kevin and Mark in the team, we're in a great position to help clients realise those benefits.".
More appointments are anticipated in the near future, in line with the ambitious growth plans of Finativ.