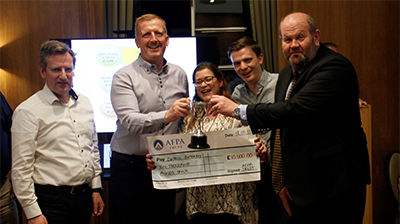 Congratulations to InterBay Asset Finance's quizzing team for taking first place in the inaugural AFPA Trust Big Quiz, winning £10,000 for homeless charity Depaul UK along with the Rivermore Asset Finance Trophy.
VIP Apps Consulting took second place winning £3,000 for their charity Launchpad Reading, and Paragon Bank, in third place, donated £1,000 to their charities Newlife and Naomi House.
Haydock Finance won the Heads and Tails game with £500 going to their chosen charity, Blackburn Youth Zone.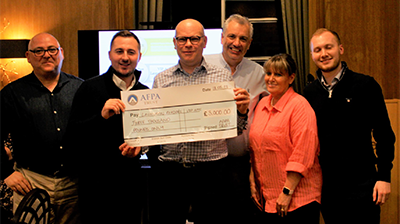 Paul Fazakerley, Managing Director of InterBay Asset Finance commented, "InterBay Asset Finance are proud to have won the inaugural AFPA Quiz against very stiff competition from across the asset finance industry. It was closely fought and we are delighted to have won both the Rivermore Trophy and £10,000 for our chosen charity, Depaul, which helps homeless young people. It was an extremely well-organised event and we will definitely be back next year to defend our trophy and would encourage others to submit teams next year to help raise much-needed funds for charity."
Last night's AFPA Trust Big Quiz was a close and exciting competition: 22 quiz teams came to win funds for 25 worthy charities – and in the end only two points separated the top three and four points separated the top six. In a thrilling final few rounds, which saw the leaders change several times, Interbay Asset Finance secured an historic win by one point from VIP Apps Consulting and Paragon Bank.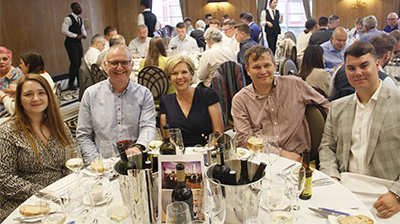 The AFPA Trust, who will be celebrating its 10th anniversary this year, hosted the Big Quiz to generate a huge buzz and competitive spirit within the asset finance industry. Robert Taylor, Deputy Chairman of the Asset Finance Professionals Association (AFPA), commented, "It was a truly memorable evening of networking, competition and fun. Everyone had a fabulous night. We at AFPA Trust are thrilled to have hosted our inaugural Big Quiz and cannot wait for next year where we hope to have an even bigger amount of money to give to the chosen charities of the winners."
The AFPA Trust Big Quiz was kindly sponsored by LTi Technology Solutions, Paragon Bank, Close Brothers, VitrX, Rivermore Asset Finance, Acquis Data Services, Cordoba Rewards and Asset Finance Connect.
For details of more AFPA Trust events, please visit https://www.afpatrust.com.