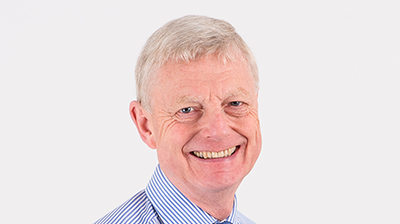 Recognising a lifelong commitment and contribution to the industry, the Lifetime Achievement Award 2023, sponsored by Alfa, will honour an individual who has had a career working in the auto or equipment finance industry and has made a lasting contribution to the businesses in which they have operated and the industry as a whole.
Have you got a colleague whose dedication and contribution to the auto or equipment finance industry deserves the recognition of the 'Lifetime Achievement Award'? Nominate them today at the Asset Finance Connect's Summer Awards website. Submit your entry before 14th April.
One of the first nominations for this year's Lifetime Achievement Award is a person who has shown true passion for the sector whilst having an enormously positive impact in helping to reshape the asset finance industry - Bruce Nelson, Director of Compass Business Finance.
A tower of strength in the whole asset finance industry, the highest level of integrity and honesty, respected for expertise and insights, gracious with his time, powerful in building relationships, a complete gentleman and a thoroughly decent bloke. Direct and to the point, but never unfair, angry or emotive. You know where you stand. No ambiguity, only clarity and purpose, a consummate manager and finance professional. A godfather to the industry…
These are among the many attributes afforded to Bruce Nelson, a central figurehead in the asset finance industry for almost 50 years. Bruce remains actively working at Compass Business Finance, continues to be a pivotal part of the team and is highly respected by his colleagues, industry peers, and by family and friends.
"Bruce Nelson thoroughly deserves this award. He is the voice of calm and common-sense in the industry and is held in very high esteem. He has had an untarnished reputation throughout all the decades and cycles, and also has a real passion for the industry and helping people."
Bruce's working career started with a vehicle contract hire company in the 1970s, arranging quotes for fleets. This was his first introduction to finance. He moved to North West Securities, a finance division of the Bank of Scotland, before setting up his own business, Industrial and Commercial Finance (ICF) in the 1980s, which had a strong focus on print finance and operated as one of the early brokers. The company was later merged with Industrial Equipment Finance (IEF), which had a strong focus on the engineering and print sectors (then latterly aviation), with Bruce as Managing Director.
IEF was highly respected and profitable, at which point it was sold to Hitachi Capital Business Finance, where Bruce became the Divisional Managing Director. A couple of years later, he joined Key Equipment Finance as its Regional Director for Northern Europe, heading up its business across six countries.
Bruce became one of the original founding shareholders of Compass Business Finance in 2005, supporting the business remotely in the early years before working formally from 2009. Whilst never directly running Compass, he provided in-depth knowledge and expertise of the market that supported his sons, Jamie and Mark Nelson, until he was bought out of the business in 2018.
Since then, Bruce has operated as a consultant, overseeing the credit and risk side of the business and acting as an informal non-executive director. He continues to be a hugely important part of the Compass team and is well respected by everyone.
Held in high esteem by all his peers, Bruce Nelson has had a huge influence in the industry. Described as a tower of strength, Bruce holds many industry-wide roles, and is highly respected for his expertise and insights.
With his undiminished passion, he has "held on to the tiller all the way through all the ups and downs".
Bruce was described as "ahead of his time" in joining the Finance & Leasing Association when it was dominated by large organisations, but as a small independent he became one of the biggest voices in the room. Bruce would always steer the discussion into the direction of travel where common-sense prevails to make things happen.
Bruce has worked with closely with several industry groups, including the FLA, the British Business Bank, WRAP, DEFRA and DECC, always working in the background to push the industry forward, and affect positive change.
During periods of company mergers and acquisitions involving Bruce's workplaces over the years, he was a central figure. Bruce always seemed to be able to figuratively put his arms around all that was taking place and those involved to bring out the best in the situation and people.
"He is a tower of strength who has been described to me as the godfather of the asset finance industry. Bruce holds many roles across the industry, and is highly respected for his expertise and insights, which is still the reality today and is still going strong and contributing significantly today."
To see a full list of the award categories and individual awards, visit Asset Finance Connect's Summer Awards website, where organisations can add their nominations for award winners and book their tables for this year's must-attend event on July 12th.
Visit Asset Finance Connect's Summer Awards website HERE to place your nominations for award winners and to book your table.